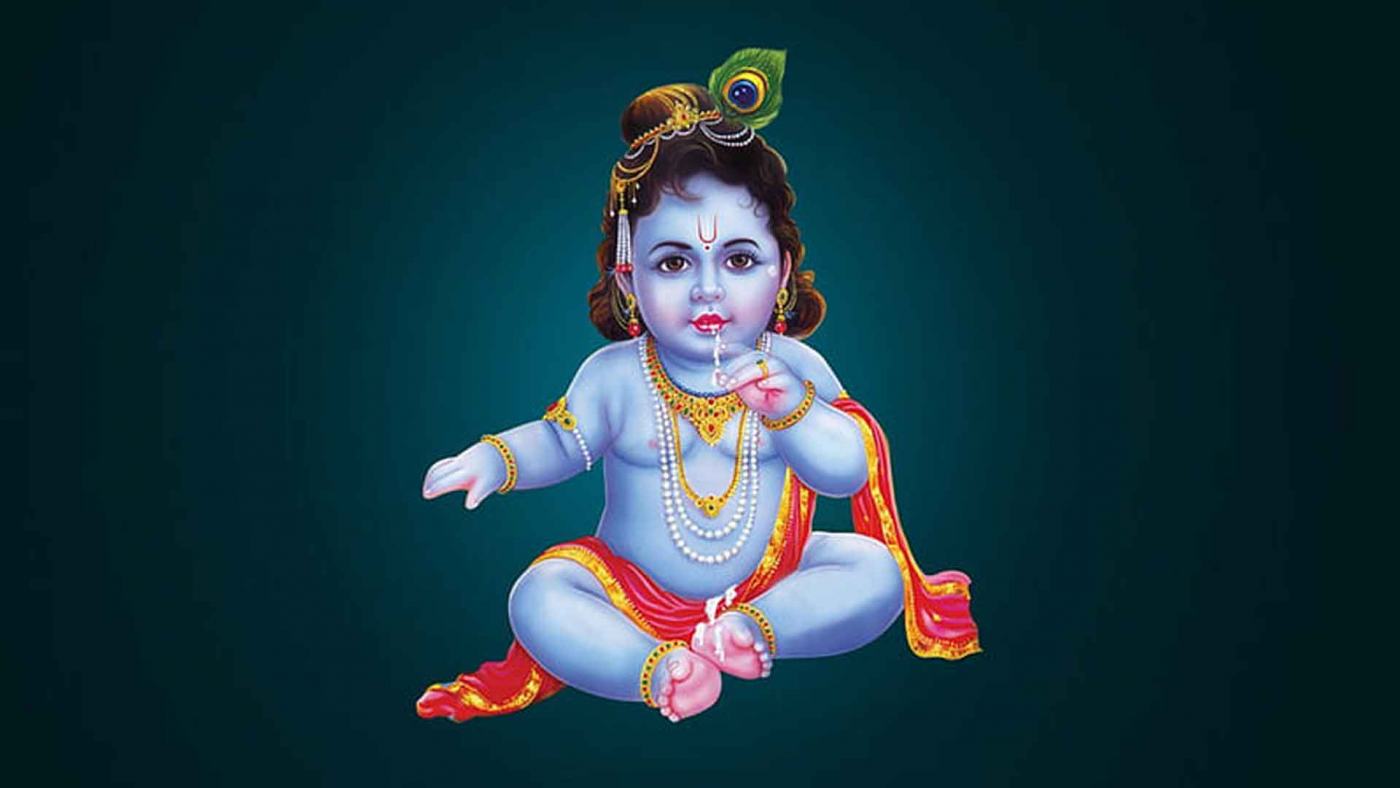 Krishna Janmashtami is one of the most popular annual festival among Hindus all around the world. The Festival is also called as Krishna Jayanti, Krishnashtami, Gokulashtami, Shri Krishna Jayanti, yadukulashtami or simply Janmshtami. This day is significant as it is occasion of birth of Lord Krishna, the eighth avatar of Lord Vishnu.
Date and Time of Janmashtami Celebration In 2023
This is the 5250th birth anniversary of Lord Krishna on 6th and 7th September 2023.
Janmashtami begins at: 03:37 pm on 6 September 2023
Janmashtami ends at: 04:14 pm on 7 September 2023
Pooja Time: 11:57 PM to 12:42 AM, Sep 07, 2023
Why Do We Celebrate Shri Krishna Janmashtami?
According to Hindu calendar Janmashtami (Birth on eighth day) is observed on eighth tithi (Ashtami) of Krishna Paksha (the period of moon) in Bhadrapada Masa (Month of Hindu Calendar) as on this day Lord Krishna was born in the holy month of Shraavana. During his whole life Lord Krishna did so many great works for the public by saving them from evils and helping them to have a better life that till today millions of devotees celebrate this day with great faith.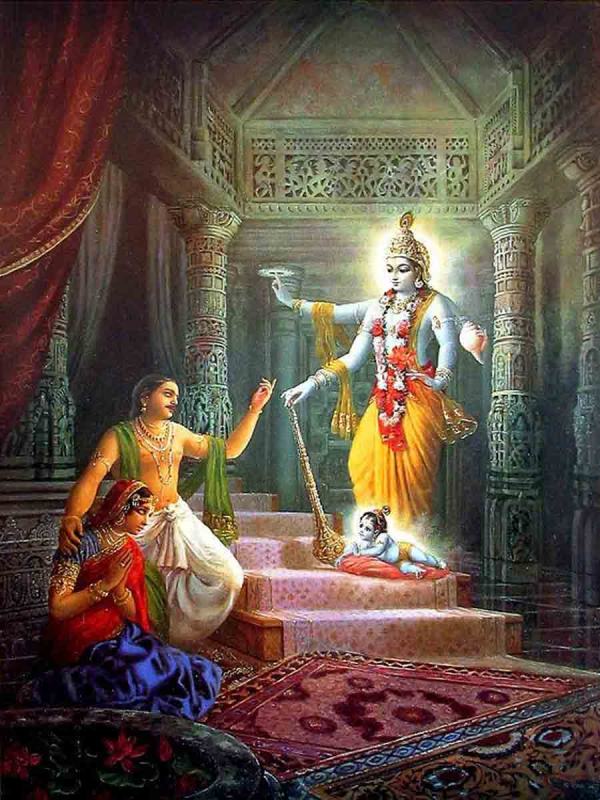 Janmashtami Rituals, Pooja, Bhog and Fast
Every year Temples, homes, shops, streets etc. are decorated with flowers, lights and favorite items of Krishna like peacock feathers, jhulas and flutes. Devotees decorate the puja places and idol of Lord Krishna with various dresses, ornaments, flowers etc. People perform various rituals which represents the life of Krishna like his childhood, his Leelas and his other acts in form of dances, devotional songs and bhajan-kirtans.
The main puja is performed at midnight in sixteen steps. The idol of Krishna is bathed and then new clothes are put to it. Pooja plate is arranged with water to sprinkle, kumkum & sandlewood powder aarti lamp, flowers, incense, bhog and Prasad. People perform puja and prayings in various manners according to their devotions to their lord. Numerous type of Bhog and Prasads (Sweets that are devotional offerings) are made specially favorites of Krishna like Makhan (white butter), peda, panjiri, malpua etc. for the Puja day. Devotees also make a list of 56 food items known as 'Chappan Bhog' to offer the Lord. People hold a strict fast on this day which is only broken after the midnight puja ritual. A large number of public goes to temple on this day to participate and watch the rituals while many celebrates at home only.
Few Facts About Lord Krishna and Significance of Janmashtami
Lord Krishna has so many episodes in his entire life that no one could ever have. He has done so many incredible works that elaborating his entire life is next to impossible. Some of his life chapters are:
Birth
As per ancient Hindu Literatures like Bhagwad Gita and Bhagwata Purana, Krishna was the eighth son of Vasudeva and Devaki, the sister of Mathura's brutal king Kansa. Prophecy was that the couple's eighth son would end Kansa, so Kansa imprisoned them and killed their previous children. But at the time of birth of lord krishna, the father magically managed to escape the baby and handover to hands of Yashoda and Nanda Baba, who were living in Vrindavan, to take care of the child.
Childhood
Lord Krishna lived his childhood in Vrindavan under the care of Yashoda and Nanda. He turned out to be an alluring, yet a naughty child. He used to do many mischiefs acts like stealing milk, butter and specially his favourite Makhan from almost all houses, which gave him his another name as "Makhan-Chor". He used to herd cows and playing his flute which used to make people and animals lost in the magnificent tune of flute. This gave him names like Govinda & Gopala (friend and protector of cows) and Murliwala (the Flute-Man). So many women also known as Gopis used to leave their work and everything just to listen his flute. In his childhood age only he did so many heroism acts like fighting with monsters, saving from storm and killing Kansa that people used to worship him as their savior and lord.
Love and Married Life
According to Hindu Literature of Krishna, it is believed that he had 16,108 wives apart from his childhood love Radha. It is said that around 16,000 unmarried girls were in kept of Narakasura as sex-slaves. When Krishna freed them, the girls asked him to marry them as society won't accept them and will commit suicide. So in order to give them the honor and status of queen, he married to all of them. Rukmini is said to be the official wife of Lord. But he never got indulge in any type of illegitimate relationship with any of them even with his love Radha. Krishna used to say that Radha & Krishna are "One-Soul" and "One-body". The love story of Radha-Krishna is considered as one of the most beautiful and holy relationship.
Krishna-Leela
Krishna-Leela, also known as 'Ras-Leela' is another part of celebration. People performs various skits and acts through dance, drama, devotional songs and bhajan-kirtans which shows Krishna's life journey. The Leela isn't just an act or dance, rather it is willing to live the life with love and with your loved ones. The Ras-Leela was Gopi's incredible dance that revolved around Krishna when he used to play his flute. So the Leela also bring out your inner-self, love and devotion to your Lord and loved ones.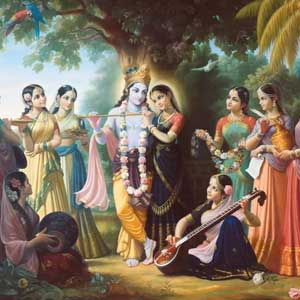 Dahi Handi
Dahi-Handi is another mesmerizing celebration of devotees. It is kind of competition of breaking a high hung earthen pot filled with yogurt, milk, water and fruits. Youths, also called Govindas, form a human pyramid for reaching and breaking the high-hung pot. It is performed as Krishna used to steal the Makhan from homes with his friends during his childhood, as people would high-hung the pots to save it from stealing.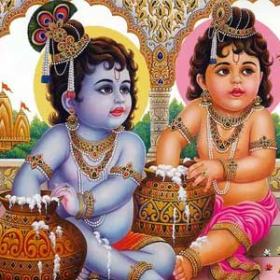 Laddu Gopal
Laddu Gopal also called Bal Gopal is idol of lord in his childhood form. People take care of him as offspring of family. He is treated as the most important family member and is offered food before anyone else. People upbring their lord like their own child. They would bath the idol, dress him up, make him sleep at night and waking him up in the morning. Devotees also would buy or make at their own various dresses, beds, jhulas, blankets and even mosquito net for the idol of their lord. People even carry their laddu gopal along with them in case there is no one to take care of him.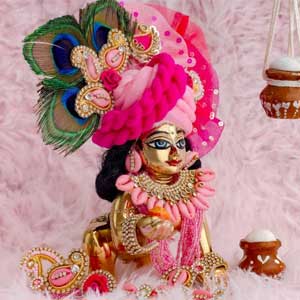 Jhulanotsav
The Jhulan festival is celebrated to represent the childhood of Shri Krishna with his friends, swinging on Jhula underneath the trees especially with his love Radha. People put Idols of Radha-Krishna on decorated Jhulas and swing them with flower ropes. Women and children tie Jhulas on tress and swing on them for days.
Iskcon Temple
"International Society for Krishna Consciousness" is a religious organization founded in 1966 in New York City by A. C. Bhaktivedanta Swami Prabhupada. Iskcon was founded to spread love of God and Bhakti Yoga for pleasing Krishna. Since then it has more than 800 temple all over the world and millions of followers from various countries and religions.
How Janmashtami Is Celebrated
Though the festival is of 2 days only, but people start celebrating it days before and even after few days of Janmashtami. Houses, shops, markets, streets etc. are decorated days before the festival. Temples are decorated with lights and various flowers and all to please the Lord. Temples of Lord Krishna are decorated in themes which represents the Lord. People would dress up in new clothes for the Pujas and celebration.
People also dress up their children as Krishna and Radha to have a chance to adore and love their Lord in their own children. In many stadiums, parks, temples, schools and chawks, pandals are made up on which many people would perform various acts dedicated to Lord Krishna.
Celebration Across The Globe
The birthday of Lord Krishna is celebrated as a big festival in whole India as well as other countries too by millions of followers of Lord across the Globe. In various areas Janmashtami is celebrated in different-different ways, some of the famous ones are:
Mathura

Mathura is birthplace of Lord, hence one of the grandest celebrations take place in the region. Temples are decorated following a similar color scheme. All the streets and lanes of Mathura is filled with the sounds of devotees' chants and temple bells.

Vrindavan

10-12 days celebration happens in the city where Krishna grew up. There are over 4000 temples and areas where Krishna played with his friends, gopis and Radha and performed Ras-Leelas.

Dwarka

Dwarka is the kingdom of Lord Krishna and one of the Char Dhams (four sites of Hindu Pilgrimage). Mangla Aarti is performed in every corner of the city with night long bhajans, Ras-Leela and Gujarat's famous garba events.

Gokul

Gokul is the place where Krishna's father handover the newborn child to Yashoda and Nanda after the midnight birth, hence here Gokulashtami is celebrated a day after the whole country. On Puja day, people celebrate by showering curd and turmeric on each other to celebrate Dadhikana (Nandotsav).

Mumbai

Mumbai's Dahi-Handi function is like none in the entire country. Almost in every area of the city, GovindMandals group themselves in healthy competitions, forming human pyramid and breaking the high-hung pot and claim huge prizes.
Apart from these places huge celebration happens in places like Dwarika (famous for Jagannath temple, Odisha), Rajasthan (famous for Govind Dev Ji temple, KathuShyamji temple, Birla Mandir, Iskcon temple and Shrinathji Temple), Udupi (Karnataka), Imphal (Manipur), Pune, parts of Assam and Tamil Nadu. The festival is not limited to Hindu people, while Lord Krishna has millions of devotees of other religions too from all over the world. Many foreigners are dedicated devotees to Lord Krishna. Therefore Janmashtami is celebrated outside India like in Malaysia, Singapore, Canada, Paris, New Zealand etc. with equal enthusiasm.
Lord Krishna- The Divine Lover, The Great Warrior, The Greatest Leader and The Most Lovable God
Krishna also known as "Blue-God", is an irrepressible child, a terrible prankster, flute-magician, a great dancer, an irresistible lover, a true warrior, a true friend, a great teacher, a great leader, a great king and a great God. He led the biggest war "Mahabharata War" which represents the win of good over sins.
Shri Krishna – A Great Teacher
Lord Krishna taught to follow the path of the Truth and Good only. No matter what comes in path, one must follow his duty. He taught us to give respect to our elders, women, even to enemies and animals. He taught us no matter how successful you are, one should never forget their past, relatives, friends and knowns. His entire life journey is full of events which teaches mankind to be on better path.
Some of his famous quotes are:
"The only way you can conquer me is via love, and there I am happily conquered"
"Whatever happened, happened for the good. Whatever is happening, is happening for the good. Whatever will happen, will also happen for the good"
"Do your Karma (work), don't worry about the fruit of work"
"You came empty hand in this world and so as you will leave"
"There are three gates to self-destruction and hell: Lust, Anger & Greed"
Krishna Janmashtami- the biggest cultural festival
Janmashtami isn't just a religious festival but it one of the biggest cultural event that brings people together from all over the world, brings sheer joy and let you get to know India's worldwide known Hindu Culture. The devotion to Lord Krishna is really at a different but huge level among people.